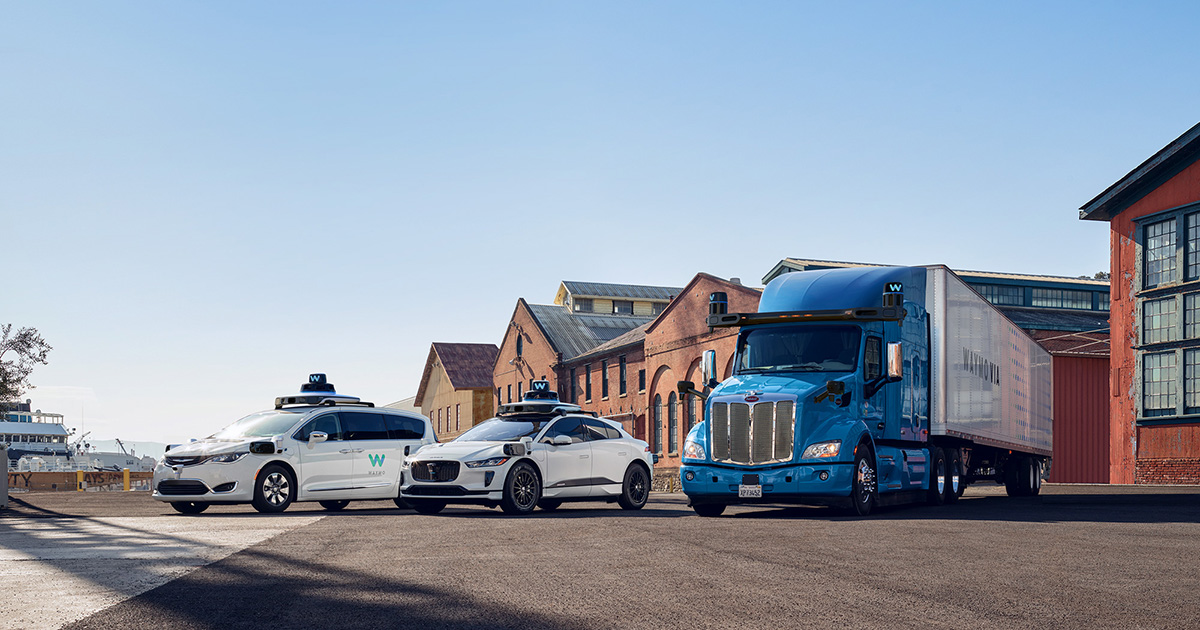 General
Waymo is an autonomous driving technology company with a mission to make it safe and easy for people and things to get where they're going. Since our start as the Google Self-Driving Car Project in 2009, Waymo has been focused on building the Waymo Driver—The World's Most Experienced DriverTM—to improve everyone's access to mobility while saving thousands of lives now lost to traffic crashes.

We're committed to developing fully autonomous vehicles because we believe that this is safer and better for all those who share our roads.

Around the world, over 1.35 million people die on our roadways annually. In the US alone, traffic collisions kill over 35,000 people a year. In the U.S., 94% of crashes involve human error or choice, and this is one place where we believe we really can bring technology to bear. Autonomously driven vehicles could also help people who can't drive—whether elderly, blind, or disabled—to get around and do the things they love.

In addition, truck crashes cause 4,000 deaths and a further 110,000 people are injured in commercial truck-related crashes annually in the U.S. With Waymo Via, we're hoping to make highways safer by integrating the Waymo Driver to operate commercial trucks.

Our fleet of autonomously driven vehicles has included modified Toyota Priuses, Lexus SUVs, a custom-built prototype vehicle (nicknamed "Firefly"), and our fully autonomous Chrysler Pacifica Hybrid minivans. The Chrysler Pacifica Hybrid minivans are our first vehicles built on a mass-production platform with a fully-integrated hardware suite, newly designed by Waymo for the purpose of full autonomy.

We've also partnered with Jaguar and leveraged their I-PACE platform to create the world's first premium electric autonomously driven vehicle.

With Waymo Via, we're also integrating Class 8 trucks with the Waymo Driver to operate autonomously. This includes combining The World's Most Experienced DriverTM technology with Daimler's Freightliner Cascadia to enable fully autonomous truck driving.

Waymo Via is our autonomous driving solution for moving goods. Currently we are testing Class 8 Heavy duty trucks that are operated by the Waymo Driver in California, Arizona, Texas, and New Mexico. We're also testing local delivery in Arizona with our fleet of autonomously driven Chrysler Pacifica Hybrid minivans Learn more.

At Waymo, we're focused on building the Waymo Driver, which is how we refer to our autonomous driving technology. There are two pieces to the Waymo Driver: hardware and software. On the hardware side, we have a sensor suite that includes lidar, cameras, radar, and a powerful AI compute platform. Collectively, they provide a 360 degree view of the world. On the software side, we take all of the information our sensors collect to answer four key questions: Where am I? What's around me? What will happen next? And what should I do? Together, our hardware and software work in concert to paint a complete picture of the world around the car and enable us to navigate roads safely.
Riding With Waymo One
Waymo One is our public, fully autonomous ride-hailing service. Anyone can take fully autonomous rides (with no one in the driver's seat) anytime they're in the downtown or East Valley areas of Phoenix, Arizona. Just download the Waymo One app and ride right away. In San Francisco, riders can also download the Waymo One app and join our waitlist as our service ramps up in the City by the Bay.

Riders can use the Waymo One app to hail one of our autonomous vehicles operated by the Waymo Driver, 24 hours a day, 7 days a week. Whether it's for a fun night out or just to get a break from driving, our riders get a clean vehicle every time and a Driver with more than 20 million miles of experience on public roads.

The Trusted Tester program is a confidential research program within Waymo One, where select riders have early access to the latest features. These riders share their experiences directly with our team to help shape the future of autonomous driving technology. Download the app to express interest in joining the program.

Our Waymo One ride-hailing service operates within parts of the Phoenix metropolitan area, including Downtown Phoenix and parts of Chandler, Tempe, Mesa and Gilbert.

In San Francisco, Trusted Testers and public riders can ride in select parts of the city once they're approved. Employees and guests of employees can ride throughout the city.

Anyone in the Metro Phoenix area has access to Waymo's fleet of fully autonomous cars operated by the Waymo Driver, which consists of Chrysler Pacifica Hybrid minivans and the world's first electric autonomous vehicle: the Jaguar I-PACE.

In San Francisco, riders in our Trusted Tester program also have access to ride in our fleet of Jaguar I-PACE vehicles.

Yes. Our Waymo One vehicles are fully autonomous. That means that on most occasions, no one is in the driver's seat when you ride with us.

Our vehicles are primarily driving autonomously, but you'll sometimes notice that our cars have autonomous specialists riding in the driver's seat. These specialists are there to monitor our autonomous driving technology and share important feedback to help us improve the Waymo One experience.

Riders in Metro Phoenix can download and ride today. We're also beginning to welcome public riders into our San Francisco service, and recently announced Los Angeles as our next city. We aren't yet sharing where we're headed next, but we are continuously working to expand our Waymo One service.

To ride in Metro Phoenix, join our San Francisco waitlist, or express interest in participating in the Trusted Tester program, simply download the Waymo One app. To stay up to date on our progress and new territories, follow our blog, Twitter, and sign up for our updates from Waymo.

Our Rider Support team is happy to help reunite you with your lost item. Please contact us here.
Requests
We hope to bring the ease and safety of autonomous cars to as many people as we can. We can't yet say where we're headed next, but we do look forward to bringing our technology to new cities as soon as possible.

Your feedback is important to us. If you've seen us on the road and would like to provide feedback on how we drive, please contact us and tell us about your experience.

If you are a Waymo One rider and would like to provide feedback on your service experience, please reach out to our Rider Support team via the app.

You can learn more about available roles here.

We can't accommodate most appearance requests due to our busy development and testing schedules. For special requests, please use our contact form. Please note that we aren't able to respond to all inquiries.

Good luck with your project! Everything we have to share is available on this website and on our blog, so they're the best places to look for details on Waymo. We can't provide any other information at the moment.

如果您居住在旧金山,并且有意申请参加我们的"受信任的测试人员"计划以及其他的 Waymo 研究计划,只需下载 Waymo One 应用并按照相关说明进行操作即可。